Stearns and Waldock Farms Depend on KUHN Krause Equipment to Prepare Seedbeds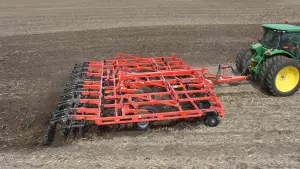 Mike Stearns knows how to utilize his KUHN Krause equipment to prepare his seedbeds and maximize yield.
Mike Stearns and his family understand the value of hard work by operating their 3,000- acre farm. Stearns and Waldock Farms of Bloomdale, Ohio, grow a variety of crops including:  corn, wheat, soybeans sunflowers, cucumbers and peppers. The family enjoys staying busy with their farm and trucking business. Stearns and his brother-in-law, Tom Waldock, are third generation farmers and operate Stearns and Waldock Farms with their sons: Jacob, Jack and Tom.
Stearns and Waldock Farms is continuously trying to find ways to improve their operation's efficiency by making upgrades or purchasing better equipment. Stearns hopes all of their hard work will eventually pay off, as one of their goals is to average 300 bushels/acre of corn.
"We've come close to our goal, but it takes a good crop to get there," said Stearns.
Everyone pitches in to help the farm run smoothly. Stearns' main priority is to make machinery purchases and maintain the current equipment. The family is used to seeing KUHN red in their machine shed, as they have a KUHN Krause 4400 Packer, Landsman®, Gladiator® and an Excelerator®.
Stearns enjoys using his KUHN Krause 4400 Packer and Landsman because he has seen improvement in the seedbed and yield on his farm. The packer pulverizes clods, presses down stones and eliminates air pockets in the soil, resulting in a superior seedbed to give the crop a uniform emergence and even soil temperature right from the start.
"They give you a nice seedbed," emphasized Stearns.
The packer allows crops to reach their maximum yield potential with a properly prepared seedbed eliminating air pockets and large dirt clods. The packer also follows field contours with the packer wings flexing downward to 6° and upward to 45°.
"Corn likes a deep, firm seedbed and the KUHN Krause packer does that for me. I can control my seedbed," explains Stearns.
Before purchasing his KUHN Krause Landsman, Stearns noticed his neighbor owned one. After his neighbor recommended the implement, Stearns was eager to test and purchase his own.
"The Landsman does a nice job. It levels, weeds and de-clods the ground. We've had quite a few different machines, but it is the best we've ever had," emphasized Stearns.
The KUHN Krause Excalibur® blades cut residue with their 32-flute edge, while the cultivator shanks provide thorough mixing action, dislodge weeds and settle soil. The spike harrows provide excellent clod breaking and additional leveling action. Also, the 24/7® soil conditioning reel accomplishes final clod sizing and soil firming with the ability to select a range of constant down pressure to extend the weather/tillage window.
When asked how KUHN Krause equipment has benefited Stearns and Waldock Farms, Stearns appreciates the ability to make the machine work for him. He is able to take it right into the field and make it do exactly what he needs.
Stearns purchases his KUHN Krause equipment from Wood County Farm Implement in Bowling Green, Ohio. He also enjoys working closely with Don Frisbee, KUHN Krause Territory Manager.
"Frisbee is a good man. Any KUHN Krause equipment we buy, he comes out to the farm to set it up to make sure everything is correct. He is a very good asset to KUHN Krause," said Stearns.
Recently, Stearns was asked for a recommendation for a strip-till machine and he was able to put his neighbor in contact with Frisbee.
"They've seen ours work. They've seen what we are able to do with it. It sells itself," said Stearns.