Bale Processors
News & Offers
17 Dec 2021
Corporate
Explore our full lineup of KUHN Knight livestock products!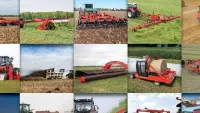 3 Sep 2021
Corporate
Learn more about the newest products from KUHN!
KUHN Primor bale processors can process a wide variety of materials that can be used in a multitude of ways. Choose from the mounted Primor 2060 M or the trailed Primor 4270 M to fit the needs of your operation.