KUHN HRB Power Harrow Pleases Colorado Hay Farmer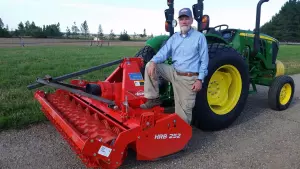 Ivan Getting of Longmont, Colorado, depends on a collection of KUHN machinery to successfully run his 15-acre hay operation. Getting recently purchased a KUHN HRB 252 D power harrow in order to break up clods in the soil to efficiently prepare seedbeds on his operation.
KUHN HRB power harrows provide optimum seedbed preparation to maximize the productivity of crops due to the crumbling, leveling and packing work of the harrow. The wide choice of blades, rollers and the wide range of gears available for the Duplex gearbox will fit any farmer's needs. With a working width of 8'2", minimum of 50 horsepower and maximum 140 horsepower, the HRB 252 D has a simple design with total reliability.
Ivan Getting's 15-acre hay operation on the high plains of Colorado, 30 miles northwest of Denver, relies heavily on KUHN implements. Getting is the proud owner of one KUHN Knight and three KUHN machines which include a 1224 EasySpread® box spreader, a GA 300 GM mounted rotary rake, an FC 3160 trailed, side-pull mower conditioner and his most recent purchase of an HRB 252 D power harrow.
When speaking of his numerous implements Getting jokes,
"You can't see the blue sky with all the KUHN paint around here."
When asked about his KUHN implements, Getting responds,
"KUHN equipment has given me the ability to grow my crops all on my own. Every piece I own I needed for critical operations on the farm."
The HRB 102 D Series power harrows will prove to you their value through their reliability, performance and durability. They provide the same work quality, design and manufacturing level as larger commercial models. The benefits of these tools include: no shortcuts regarding quality of work, easily adjustable to adapt to variable conditions and reduced maintenance and operating costs.
It did not take Getting long to research the KUHN HRB 252 D before he decided to purchase the power harrow.
"I had borrowed a similarly designed machine and it worked very well. I was studying vertical tillage at the time because I knew I needed to break up the hard clods in the clay-loam soil that resulted from it baking in the hot sun. If I didn't have this machine, the clods would be very difficult to break up. I also knew I did not want a machine like a conventional rototiller which scrapes the soil horizontally."
The HRB 252 D power harrow's strong rotor drivetrain is fully protected by a rigid gearbox. The casing, bearings and tine holders form a compact and very strong unit, reducing twisting forces on the housing. The blades enable the seedbed to have small clods on top, fine soil around the seed, in-depth packing and exact leveling to ensure even germination.
Getting used his KUHN HRB 252 D for the first time this spring.
"In just one pass, the machine breaks up the clods and makes a neatly finished and fine seedbed. I anticipated the vertical rotary tines would break up the clods very well and indeed the power harrow helps tremendously," said Getting expressing his appreciation for the machine.
The shape of the side deflectors on the HRB 252 D provide efficient ground guidance and channeling to ensure a good finish between passes.
Getting has received the best results from his HRB 252 D power harrow when paired with a Schmeiser land roller.
"Because the power harrow does a super job of breaking up the clods, it leaves a moderately fine seedbed. When planting grass you need a firm seedbed, so that is why I decided to pair the power harrow with the land roller. The roller is a foot wider than the power harrow and has a weight of 460 pounds per foot of width. This combination presses finely tilled soil back into a firm seedbed. The combination of these two implements to make a seedbed is new and efficient technology for me. Using the two together has allowed me to grow exceptionally good grass."
Getting gives a lot of credit to his KUHN salesman, Chris Badding.
"Chris was the deciding factor in purchasing my HRB 252 D power harrow. Chris helped me out by recommending the power harrow. He thought it would be the perfect machine for me. Chris should have two power harrows on his showroom floor in Greeley," states Getting.
KUHN Knight of Greeley has been providing sales and service to the Northeast Colorado region since 1995.
The store carries all KUHN, KUHN Krause and KUHN Knight parts and offers services on all makes and models of hay tools, TMR mixers and manure spreaders.
Getting is extremely pleased with his KUHN equipment.
"I have purchased my equipment based on the recommendation of other farmers. I would highly recommend any of the KUHN and KUHN Knight equipment I have to anybody."