Rear-Discharge Manure Spreaders
News & Offers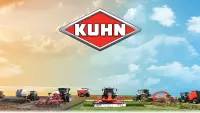 3 Jan 2023
Corporate
Explore our full lineup of products!
17 Dec 2021
Corporate
Explore our full lineup of KUHN Knight livestock products!
KUHN is the leader in innovative apron box spreaders, with over 60 years of experience. KUHN ProSpread® apron box spreaders are an ideal choice for producers seeking to take maximum advantage of the nutrient value of their manure, from pen pack to dry yard manure. Truck and trailer models are available with several discharge options allowing you to customize your machine to your operation.
Read more
KUHN Knight hydraulic push manure spreaders feature the proven ProPush® design customers have come to love. The hydraulic push-type design means no apron chains, fewer moving parts and dependable service life. The ProPush design, coupled with VertiSpread® vertical beaters, is designed to haul and spread solid materials from dairies and feedlots, including gutter manure, yard scrapings, bedding pack and feedlot manure. Non-commercial and commercial models are available with capacities ranging from 365 ft3 to 950 ft3 .
Read more