Round Balers
News & Offers
18 Jan 2022
Corporate
KUHN wins four 2022 ASABE AE50 awards for innovation!
5 Jan 2022
Hay & Forage
KUHN is now not only at the forefront when it comes to bale density, but also plays in the premier league when it comes to throughput." This...
Benefits of round bales?
Round bales fill the gap in efficiency between small squares and large square bales. Depending on the operation there can also be added cost savings. Round bales can be made into or composed of dry hay, straw, or baleage/haylage as well. Storage capabilities around each type of material being baled also has added benefits for instance, dry hay can be stored outside on well-drained storage areas and shed rainfall with a well-rounded outer layer and uniform net distribution. Baleage can benefit in transportation with individual packaging by preserving quality during transport. In addition, keeping and managing feedstocks can be easier to maintain by reducing spoilage and dry matter loss associated with managing bunker and silo pits in comparison.   
How do round balers work?
Round balers work by raking the desired crop into the bale chamber through different types of intakes designed to give maximum efficiency when matched with specific crop types and operator preferences. Intakes vary in their ability to handle certain materials better than others and their overall function for example the ability to cut forages down in length. The crop is then rolled within the chamber creating the desired size, weight, and density. Upon completion of the desired bale it is then bound by either twine, net, or even film to maintain shape and preservation during storage and transportation. 
What bale sizes do KUHN round balers produce?
4x4 round bales, 4x5 round bales, 4x6 & 5x6 bales
While these bale sizes are "standard", the overall diameter of the bale can be changed to the user's preferences in most variable chamber balers. This depends on the model, but for instance, a 4x5' baler could create a 4'x4' bale and a 5'x6' baler could create a 5'x5' bale. The balers that are limited to exact bale sizes are fixed chamber balers, which are only capable of creating a bale the size of their bale chamber.  
What can I bale with a round baler? Dry hay and so much more!
Modern round balers are designed to handle a wide range of forages and straw. From dry hay to baleage, straw and cornstalks, round balers can handle a variety of crops. Beef and dairy producers alike can take advantage of the many capabilities of a round baler. KUHN offers a diverse product range to match these needs.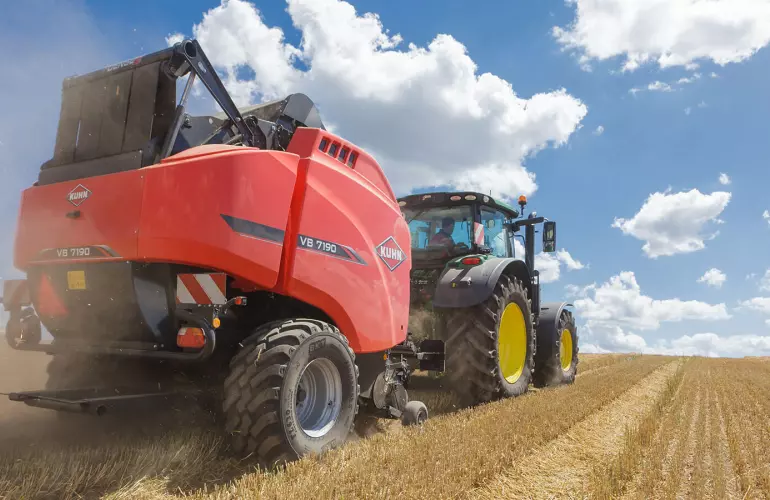 What is a silage baler?
A silage baler is designed to deliver high performance under different conditions when compared to standard dry hay or straw. Those conditions include greater weights, densities, pressure, and tack. Not all balers are silage ready, which can operate under a wider range of conditions while clearing debris from the bale chamber to maintain efficiency. All KUHN balers are silage ready to different degrees, and a KUHN dealer can best position the baler to each operator's needs. 
Cutting rotor vs. non-cutting rotor
This concept is well known for creating pre-sized forages and in some instances is used to pre-size bedding for better material spreading. Typically, a cutting rotor is used to create baleage, however the use has increased in recent years to minimize waste in dry hay and decrease bale processing times in mixed rations. Not all cutting rotors are created equal, cutting or slicing is best to minimize peak horsepower loads and even fill throughout the bale chamber. KUHN's patented tine shape allows for equal compression and slicing of the materials while some competitors have a "chopping" action which reduces overall efficiency. Cutting rotors are capable of sizing forages at different lengths depending on the amount of knives engaged which can be configured in many different ways with KUHN's group selection. A non-cutting rotor gives the same advantages of the cutting rotor by force feeding forages into the bale chamber without the cutting action. This type of rotor excels in most conditions, including exceptional feeding of short dry slick material such as rotor cut straw following a combine. These types of rotors have a wide range of capabilities depending on the consumers forage needs. 
How much horsepower is needed for a round baler?
Horsepower requirements for a round baler depend on many factors. Material being harvested, size of baler (dimensions of bale), terrain, and whether the forages are being pre-sized are all factors to be considered. 
What do KUHN round bales weigh?
KUHN round bales can vary in weight depending on the moisture content and forage being harvested. This weight is dependent on the density within a given volume. KUHN density is superior with its progressive density technology packing more material in the volume of each bale's dimension. For example, this is like filling a gallon container with steel washers and another with rice. They both would have the same overall volume, but the weight would be significantly different. 
What round baler is best?
The best round baler is found at the intersection of reliability, performance, capacity, and quality. These attributes are all matched with the dealer and customer to fill specific requirements depending on individual needs. KUHN's reputation of reliable and quality products revolves around performance, and the capacity of our different machines can be matched to tailor the needs of the customer by our superior dealer network. 
How much does a round baler cost? 
Overall, the cost of a round baler depends on how well the machine is maintained and the types of crops being harvested in addition to the annual bale count. A round baler is an investment and will have associated maintenance costs. A KUHN baler has been built around stringent testing requirements for maximum lifetime. This includes oversized chains and sprockets, heavy duty bearings, premium belts, and quality parts all carried on a superior frame and bale chamber design. KUHN also uses integral technology within its Hardox reinforced rotors, which minimizes overall maintenance with fewer moving parts and reinforcement in high abrasion areas. 
Fewer moving parts, greater reliability, less horsepower requirement, heavier components – than competitors
Contact your local KUHN round baler dealer for specific pricing.
Round balers for sale near me?