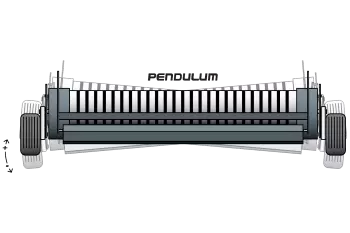 Optimal Crop Pickup
All VB 3100 models feature a wide pickup with standard crop roller. The pickup is designed to maximize the full capacity of the machine. With a working width of 83 or 91 inches, the machine is capable of working in all windrows and will not let you down, even in the toughest conditions. Straight pickup tines help release the crop and reduce crop wrapping. The pickup roller compresses the crop against the pickup tines reducing friction, thus reducing leaf loss and increasing baler efficiency by evening out the windrow.
The 91" rotor model pickup features standard pendulum frame and optional pivoting pickup wheels to allow the pickup to adapt to changing field conditions. Camless-shaped crop guides, on 91" pickups, result in more aggressive and efficient pickup by exposing more of the tine when needed and by pulling the crop away from the tines as it approaches the intake. A cam track pulls the tines straight down in the rearward position to avoid wrapping, making this the only hybrid pickup on the market today.
To better meet your operation's specific needs, there are four intake options available. Choose the direct feed intake system or select one of our three patented Integral Rotors – the non-cutting OptiFeed rotor or the 14- and 23-knife OptiCut cutting rotors. Availability dependent on VB model – See Specifications.