Round Balers
News & Offers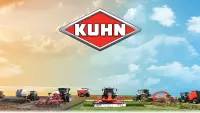 3 Jan 2023
Corporate
Explore our full lineup of products!
2 May 2022
Corporate
Senator Baldwin visited KUHN's North American Headquarters in Brodhead, Wis., for a tour and to discuss supply chain issues in the manufactu...
Benefits of round bales?
Round bales fill the gap in efficiency between small squares and large square bales, depending on the operation there can also be added cost savings. Round bales can be made into or composed of dry hay, straw, or baleage/haylage as well. Storage capabilities around each type of material being baled also has added benefits for instance, dry hay can be stored outside on well-drained storage areas and shed rainfall with a well-rounded outer layer and uniform net distribution. Baleage can benefit in transportation with individual packaging by preserving quality during transport. In addition, keeping and managing feedstocks can be easier to maintain by reducing spoilage and dry matter loss associated with managing bunker and silo pits in comparison.