Because every minute counts!
You have a lot of acres to cover and time is of the essence. So work output and having a reliable machine are what count, but not at the expense of forage quality. Check out the KUHN range of hay tools for custom operators and large farms. These machines are designed to meet your mowing, tedding, raking, merging, baling and wrapping needs.
Triple Disc Mower & Mower Conditioners
Maximizing output. Optimizing forage.
Take productivity to a whole new level with KUHN GMD triple mower and FC mower conditioners. With working widths up to 32'6", these mowers can mow down acres in no time and support you in the inevitable race for output. Backed by years of research and development, KUHN triple mowers will provide you with the cleanest cut and best conditioned crop. These mowers ensure a consistent cutting height through superior ground adaptation.
In high pressure times like today, you can count on the performance, work quality and reliability of KUHN GMD triple mower and FC triple mower conditioners.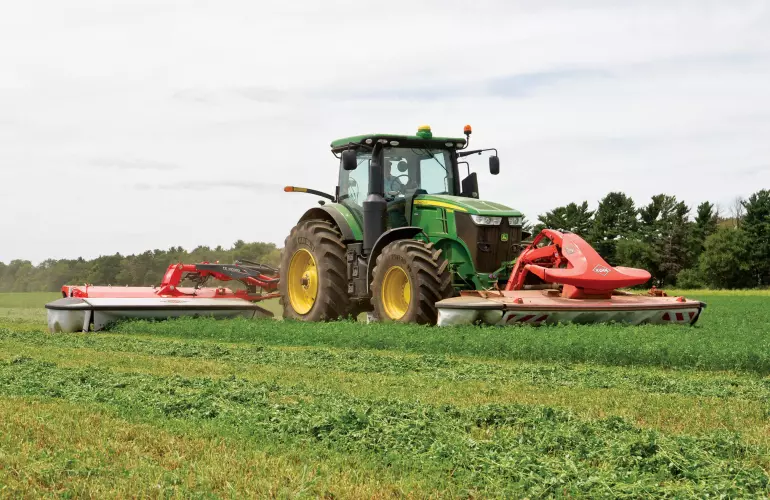 Commercial-Sized Tedders
The most complete and adaptive range on the market
Tedding is a key link in the harvesting chain because it accelerates drying. KUHN tedders are designed to create even spread patterns in all crop conditions. Simple operation and increased durability let you improve your forage value and speed up the harvest.
KUHN GF 1012 T Series trailed rotary tedders, with working widths of 28'7" to 56'5", are ideal for both custom operators and large acreage hay producers. These machines provide exceptional tedding quality, resulting in a crop that is fully tedded over the entire width, and is efficiently and uniformly spread to maximize drying. Despite the wide dimensions at work, these machines are incredibly compact in transport. Their 7'10"/9'10" transport width is a considerable asset when accessing the narrowest fields, and also provides safety and comfort during over-the-road travel.
Quad-Rotor Rotary Rakes
Large width, but easy-to-use
For large-acreage producers looking to get the most productivity out of each pass across the field, KUHN's quad-rotor rotary rakes have the size and performance for even the most demanding operations. The GA 13231 and GA 15231, with working widths of 27'7" to 48'3", allow for unparalleled yields. Despite their impressive size, KUHN quad-rotor rotary rakes remain easy to use and adjust to optimize your operation. KUHN's Masterdrive® GIII double-reduction gearbox's ability to move heavy wet crop, handle dry hay gently, and neatly windrow corn stalks is unrivaled in the industry. KUHN GA 13231 and GA 15231 quad-rotor rotary rakes reduce maintenance costs due to their comprehensive list of innovative features, including the hydraulic rotor drive. These rakes are easy to operate and adjust. All settings are made hydraulically from the tractor seat via the ISOBUS monitor.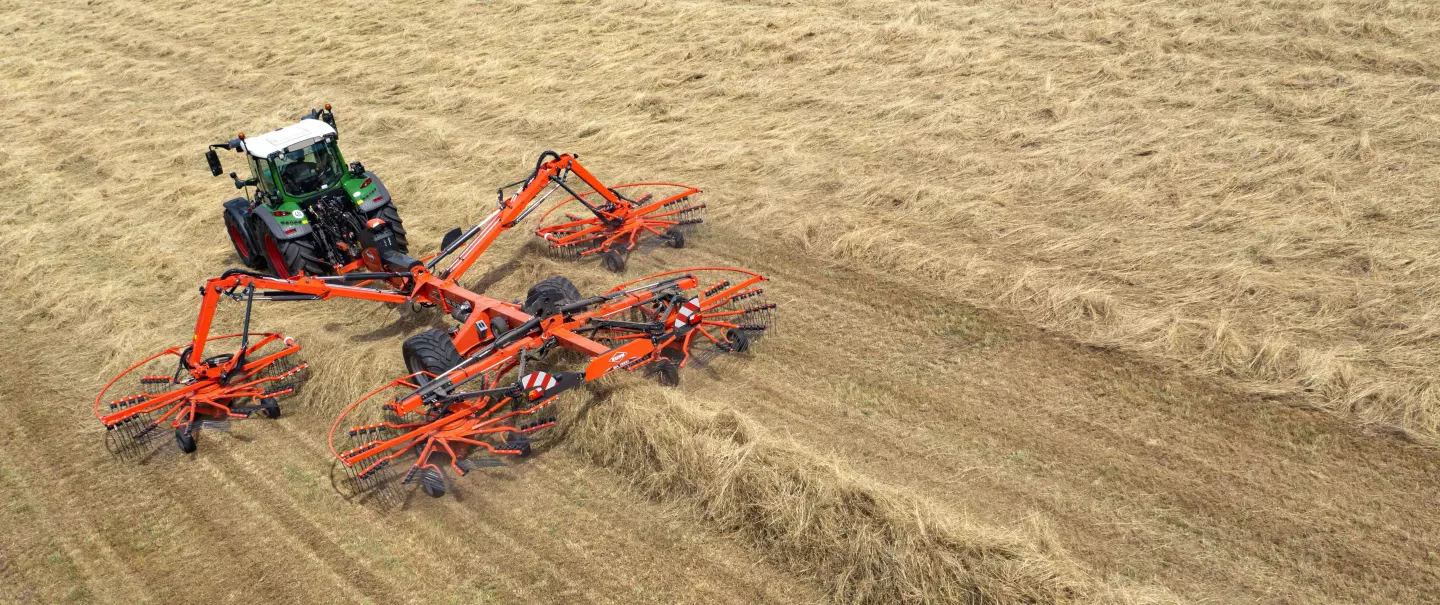 KUHN Quad-Rotor Rakes
GA 13231 & 15231
Learn More
High-Capacity Wheel Rakes
The most trusted wheel rake lineup in the industry
A simple design, high-strength materials and high-quality components make KUHN SpeedRake® wheel rakes the most dependable, longest-lasting wheel rakes on the market.
KUHN SR 600 GII Series SpeedRake® wheel rakes, with working widths ranging from 25' to 31' are high-capacity, bi-fold rakes designed to meet the needs of today's progressive hay producers. The innovative design provides unparalleled maneuverability on the road and in the field. These rakes can turn on a dime! The SR 600 GII Series rakes provide clean raking while preserving crop stubble, as well as optimized windrow formation, for a total package that offers the ultimate combination of productivity and quality performance.
KUHN SR 800 Series SpeedRake® wheel rakes are the latest to join KUHN's highly trusted rake lineup. With the easily expandable design, the rake beam can increase from 17 to 19 rake wheels, thus increasing working widths from 27' to 29' 6". The simple folding design of the SR 800 allows the operator to extend the frame and angle the rake beam to match up with a variety of mower widths and windrow styles to fit any type of operation.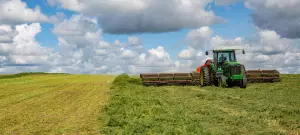 Maximize your harvesting capacity!
With 36' and 42' of pickup in a single pass, the KUHN MM 1101 and MM 1301 Merge Maxx® triple hay mergers are the largest and most efficient mergers on the market. They are unique in the industry and unmatched in their simplicity of operation, durability and merging capabilities. Designed for commercial operations, the MM 1101 and MM 1301 incorporate 6-tine bar cam pickups with exclusive tine arm wear guards and anti-wrapping rings. The floating windguard ensures the operator lays down smooth and even windrows to make the forage harvester more efficient. The crop netting improves leaf retention into the windrow. Simple and durable mechanical floatation on each head eliminates the need to engage the float via the tractor's hydraulics. ISOBUS compatibility, an industry exclusive, is standard and allows for improved operator ergonomics and reduced fatigue.
Large Square Balers
Where innovation meets tradition
The ability to produce top quality bales in all crop conditions sets KUHN large square balers apart from all the others. Every minute counts when weather conditions are uncertain. Various crops are no issue for the SB balers thanks to the Power Density system. Perfectly shaped bales, combined with high output and outstanding durability, ensure the KUHN large square hay baler will be a profitable investment.
The KUHN SB Series balers are the new generation of KUHN large square balers. These machines are designed to achieve high capacity and high bale weights, combined with more driver convenience to boost the profitability of the baling operation. Thanks to the improved intake system, an increase in capacity of up to 15% is achieved.  
The SB 1290 iD is designed to intelligently produce high density bales. Thanks to the patented TwinPact plunger system, the baler has a lower power requirement than competitive high density balers while still making heavier bales resulting in a more profitable baling operation.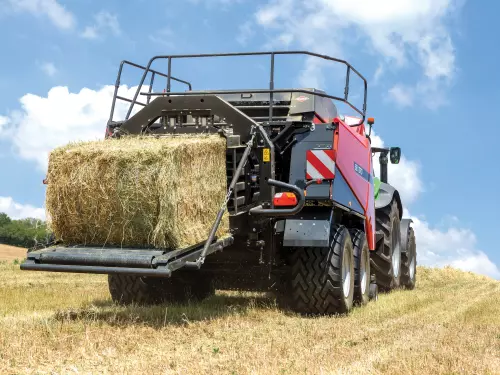 SB 1290
Round Balers
Innovative design, proven performance
KUHN round balers ensure perfectly shaped, consistent round bales and produce exceptionally high bale densities even in the most demanding conditions. 
Silage or straw, the KUHN VB 7100 Series round balers offer you high density, high capacity and extreme durability. Produce high-density bales with densities of up to 8.8 lbs/ft³ (140 kg/m³) in straw thanks to the new KUHN patented i-DENSE system. This intelligent twin tensioning arm system in combination with the measurements of the moisture sensor, automatically adapts the baling pressure according to the different crops and crop conditions, without intervention from the driver. This results in the most economical use of your baler without compromising on performance. The heavy-duty design guarantees maximum lifetime with minimum downtime. Where others stop, the KUHN VB 7100 Series starts.
The new KUHN VB 560 is one of the most efficient round balers on the market. With industry-leading cycle times, thanks to the twin tensioning arm system and the fastest tailgate speed of any 5x6 baler, it offers the productivity needed to put up high-quality hay expected in today's demanding market. The twin tension arms create rock solid bales that hold their shape for more efficient transport and storage. This baler includes KUHN's proven front net wrap system, which is now easier than ever to load thanks to an innovative new loading assist bracket. No matter if you're baling dry hay, corn stalks, high-density baleage or anything in between, the VB 560 is ready to work for you!
Individual and Inline Bale Wrappers
Bales wrapped to perfection!
Every step in the wrapping process has to be coordinated, taking in account crop conditions, field conditions and weather forecasts as well as crop handling and storage. Perfectly wrapped bales combined with high output and outstanding durability make KUHN wrappers a profitable investment.
SW 4014
Your feed dollars count. Protect your bottom line by preserving the feed quality at its optimum potential, with the KUHN 4014 square and round bale wrapper. This versatile, self-loading wrapper is jam packed with innovative features, making it like no other on the market. The SW 4014 provides fast, cost efficient and operator-friendly wrapping. The laser-guided, patented AutoLoad function detects, loads, wraps and unloads bales automatically, creating a more ergonomic and stress-free working environment. This wrapper features a solid design and a hydraulic sliding frame that allows unique drive-through operation. This provides the ability to widen the wrapper for easy bale loading, outstanding stability and unmatched visibility of the wrapping process. The Autoswitch function enables the wrapper to fold from transport position into field position with a single push of a button on the ISOBUS terminal.
OWR 6000
The KUHN OptiWrap® OWR 6000 inline round bale wrapper offers exceptional wrapping productivity, while minimizing film and fuel use. This inline wrapper is designed for demanding farmers and custom operators looking for maximum productivity and profitability in a wrapper. The OWR 6000 has the ability to quickly wrap round bales of various sizes, including 4- and 5-foot-wide bales up to 6 feet in diameter.  An industry-leading 70% plastic stretch ratio provides more efficient plastic utilization and better bale compression reducing plastic cost per bale. Greater management and control of the wrapping process can be achieved by our standard IntelliWrap™ technology. IntelliWrap uses a simple display to control the wrapping process and allows the operator to easily adjust film layers by one-layer increments. To maintain performance, the OWR 6000 features two propulsion wheels for optimal hoop traction in adverse conditions. Non-pneumatic drive wheels, made of industrial-grade polymer, are maintenance free and never go flat.
ISOBUS Compatible
Control from the cab
The majority of KUHN commercial hay tools are ISOBUS certified by the AEF. To easily adopt this technology, KUHN offers two terminals: the CCI 800 or CCI 1200 control boxes. It is also possible to use an ISOBUS control terminal and joystick already installed on the tractor or present on the farm.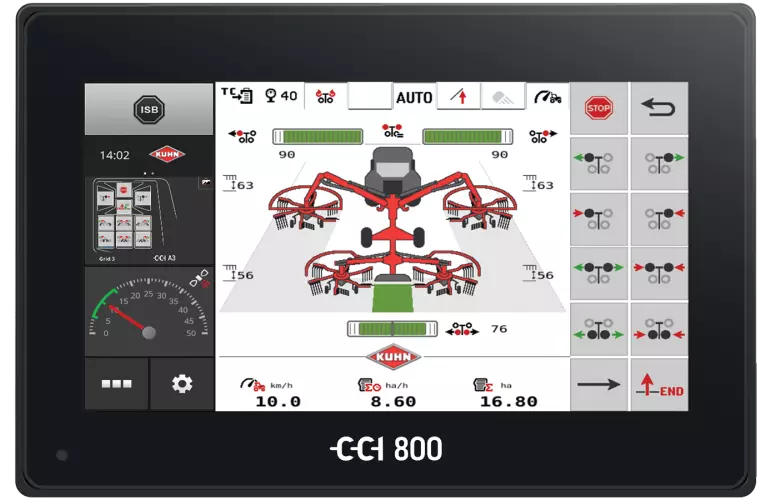 With KUHN you choose the leader in hay & forage equipment
The quality of work and excellence of our mowers, tedders, balers and rakes are recognized around the world. To support you in increasing the performance of your haymaking efforts, KUHN offers a wide range of large width models.