New KUHN Optidisc® Elite Cutterbar
KUHN Launches New Optidisc® Elite Cutterbar to meet today's Hay & Forage Harvesting Needs.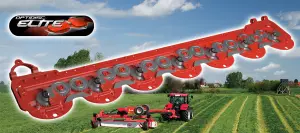 KUHN is pleased to announce the release of the new Optidisc® Elite cutterbar now available on select KUHN GMD mowers and FC mower conditioners.
Developed in partnership with farmers through testing in fields around the world, the Optidisc Elite cutterbar has the performance to meet today's demands for high-quality hay. The Optidisc Elite cutterbar design has an even lower profile, while retaining the performance and reliability features of the original Optidisc cutterbar.
The low profile of the cutterbar creates a smooth, clean cut with minimal ash incorporation due to a very flat cutterbar angle even at low cutting heights. Additionally, differential disc spacing utilizes narrower spacing at the diverging discs for extra knife overlap to create a clean cut even when the grass is short or light. Wider spacing of the converging discs provides more space for the crop to pass from the cutting area; improving the cut quality. Free-rotating Fast-Fit® knives also help enhance cutting quality and provide longer knife life.
Cutterbar reliability is retained through KUHN's patented Protectadrive® disc bearing stations. Upon striking a major obstacle, the stations are designed to shear outside the gear case protecting the components inside the cutterbar. The equal sized gears in the cutterbar allow maximum power transfer with even torque loads across the full cutting width. Maintenance and downtime are minimized with a lubed-for-life design requiring no routine oil changes. 
Production timing of machines with the new Optidisc Elite cutterbar varies slightly by model series. Currently GMD triple mowers and GMD 11 Series mounted mowers, as well as FC triple mower conditioners are being produced with the new Optidisc Elite cutterbar. GMD TL, FC TL, and FC TC trailed mowers and mower conditioners will be available later next year.
GMD Select and Premium mounted mowers and FC 4 D mounted mower conditioners will retain the 100 Series cutterbar.
To learn more about KUHN's hay tool offerings and see what combinations of mower, mower conditioner, tedder, rake or merger best fit your operation, you can install the KUHN ForageXpert app. Visit the Apple Store or Google Play Store on your phone or tablet and then download it for free. There is also a web-based version of the app.
To learn more about KUHN mowers and KUHN mower conditioners, click on the buttons below!
Other
News
4 Sep 2023
Corporate
Learn more about the newest products from KUHN!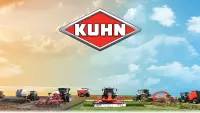 3 Jan 2023
Corporate
Explore our full lineup of products!
2 May 2022
Corporate
Senator Baldwin visited KUHN's North American Headquarters in Brodhead, Wis., for a tour and to discuss supply chain issues in the manufactu...