Kuhn North America and AEM Host U.S. Senator Tammy Baldwin
Senator Baldwin visited KUHN's North American Headquarters in Brodhead, Wis., for a tour and to discuss supply chain issues in the manufacturing sector.
BRODHEAD, Wis. – Kuhn North America hosted U.S. Senator Tammy Baldwin (D-WI) at the company's headquarters in Brodhead. Joined by representatives from the Association of Equipment Manufacturers (AEM), Kuhn North America President Greg Petras provided Senator Baldwin and her staff with a presentation about KUHN's scope in the agricultural equipment industry and also gave them a tour of the manufacturing facility. The primary focus of the visit was to discuss supply chain constraints, including how they affect manufacturers like KUHN, and efforts Senator Baldwin and other legislators are making to combat these issues.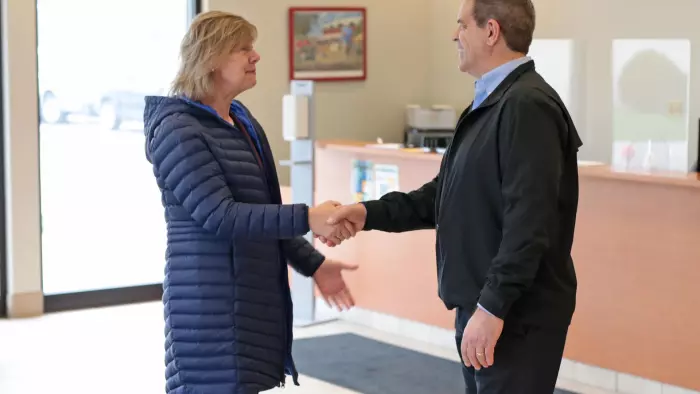 Kuhn North America President Greg Petras and AEM Greg President Megan Tanel greet U.S. Senator Tammy Baldwin upon her arrival to the Kuhn North America Headquarters in Brodhead, Wis.
Kuhn North America employee Chad Malcook discusses the company's manufacturing processes with Senator Baldwin.
"Companies like Kuhn North America are critical to moving not only our Made in Wisconsin manufacturing economy forward, but also to ensuring our farmers have the tools they need to bring their products efficiently to market," said Senator Baldwin. "As we work to finalize legislation to build a Made in America supply chain and bring manufacturing jobs back to America, I was excited to visit KUHN today to highlight how we can better support Wisconsin manufacturers who help move our agriculture economy forward. I look forward to passing the Bipartisan Innovation Act because it will accelerate the domestic production of critical components for KUHN's equipment."
"During her tenure in Congress, Senator Baldwin has been a tireless advocate for the millions of Americans making the equipment that builds, powers, and feeds the world," said Megan Tanel, AEM President. "She is a reliable partner for our industry and AEM is grateful for her efforts to strengthen the equipment manufacturing industry. We look forward to continuing our work with her as she turns her attention to the Bipartisan Innovation Act and works across the aisle to send the bill to the President's desk."
"KUHN was honored to host Senator Baldwin at our Brodhead facility," said Petras. "Thanks to the support of leaders like Senator Baldwin, we can continue to manufacture the equipment that feeds America. We are encouraged to hear about her efforts to strengthen America's supply chains and build the next generation of skilled workers, allowing our company and our industry to thrive in Wisconsin and across the United States."
Kuhn North America, Inc., of Brodhead, Wisconsin, is a leading innovator in agricultural and industrial equipment. KUHN offers a broad range of hay and forage, livestock, and crop production tools, as well as landscape and road maintenance equipment. KUHN, KUHN Knight and KUHN Krause products are sold by farm equipment dealers throughout the United States, Canada and many other countries.
Other
News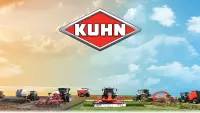 3 Jan 2023
Corporate
Explore our full lineup of products!
18 Jan 2022
Corporate
KUHN wins four 2022 ASABE AE50 awards for innovation!
5 Jan 2022
Hay & Forage
KUHN is now not only at the forefront when it comes to bale density, but also plays in the premier league when it comes to throughput." This...