KUHN Knight Livestock Product Range
Explore our full lineup of KUHN Knight livestock products!
Other
News
4 Sep 2023
Corporate
Learn more about the newest products from KUHN!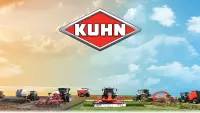 3 Jan 2023
Corporate
Explore our full lineup of products!
2 May 2022
Corporate
Senator Baldwin visited KUHN's North American Headquarters in Brodhead, Wis., for a tour and to discuss supply chain issues in the manufactu...