Grand Opening of RAUCH Test Hall Helps KUHN Continue to Promote Nutrient Stewardship
On May 9, 2019, the new RAUCH Test Hall officially opened at the Baden Airpark in Rheinmünster, Germany. Known for accuracy and precision, KUHN fertilizer spreaders will benefit from this new facility and continue to showcase KUHN's commitment to the 4R nutrient Stewardship program.
KUHN, in conjunction with our fertilizer spreader manufacturing partner, RAUCH, announced the building of the new facility last winter. The now completed facility will help KUHN machines spread the right source, at the right rate, at the right time, and achieve the right placement of nutrients for profitable and sustainable farming. 
A $2.85 million investment, this facility is the most modern fertilizer spreader test hall in the world. The test hall is climate controlled and covers an area of almost 13,293 square feet allowing a working width of 246 feet. Eighty-eight catch trays with fully automatic, high-speed load cells guarantee very fast and precise results for KUHN fertilizer spreaders. 
With each fertilizer spreader from KUHN, you will now be able to access even more precise calibration information using the SpreadSet web and mobile-based app to optimize spreading performance. Proper adjustments and settings for different products are crucial to achieving the 4R's during fertilizer application. 
To install the KUHN SpreadSet app, go to the Apple or Google Play Store on your phone or tablet and download it for free. There is also a web-based version of the app.
To learn more about KUHN precision fertilizer spreaders or the 4R Nutrient Stewardship program, click the buttons below.
Other
News
4 Sep 2023
Corporate
Learn more about the newest products from KUHN!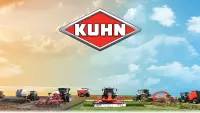 3 Jan 2023
Corporate
Explore our full lineup of products!
2 May 2022
Corporate
Senator Baldwin visited KUHN's North American Headquarters in Brodhead, Wis., for a tour and to discuss supply chain issues in the manufactu...