Congressman Brindisi Visits KUHN Distribution Center
KUHN hosted Congressman Anthony Brindisi (NY-22) at the Vernon, N.Y., Regional Distribution Center on Monday, November 4, 2019.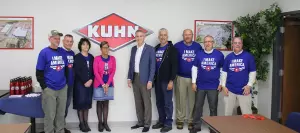 Vernon, N.Y. – The Association of Equipment Manufacturers and KUHN North America hosted Congressman Anthony Brindisi (NY-22) on November 4. I Make America, AEM's national grassroots campaign, works throughout the year to host elected officials and other policymakers at member companies' facilities across the United States.

Brindisi toured the agricultural and industrial equipment distribution facility, which services regional dealer partners. The distribution center, which was the company's original North American headquarters before it relocated to southern Wisconsin, served as a backdrop to a broader conversation about trade and the impact it has on equipment manufacturers and the local economies where their facilities are located.

"It was a pleasure to have Representative Brindisi visit with employees at our KUHN service and distribution center in Vernon, where we proudly serve the needs of farmers through our many dealer partners in the region," said Jerry Smith, RDC Operations Manager, KUHN North America. "This location is an example of how our manufacturing and distribution in the US benefits communities and supports jobs far and wide. It was great to have a chance to show and discuss how policies that benefit the equipment manufacturing industry support families and strengthen communities."

"It was my pleasure to visit KUHN North America Distribution. I'll never stop fighting to create good-paying jobs across Upstate New York," said Congressman Brindisi. "That means working with Democrats and Republicans to get trade deals that work for businesses, workers, and consumers."

After the tour, the Congressman met with employees to discuss issues that impact them both at home and the job.

Photos: Association of Equipment Manufacturers
Other
News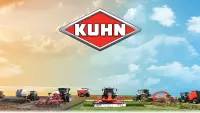 3 Jan 2023
Corporate
Explore our full lineup of products!
2 May 2022
Corporate
Senator Baldwin visited KUHN's North American Headquarters in Brodhead, Wis., for a tour and to discuss supply chain issues in the manufactu...
18 Jan 2022
Corporate
KUHN wins four 2022 ASABE AE50 awards for innovation!