INDUSTRIAL SPREADERS HAVE BEEN REDEFINED
As the worldwide leader in spreading technology, Kuhn North America offers a wide variety of KUHN Knight spreaders designed and built to meet any industrial spreading needs. Slinger® side-discharge spreaders provide even, controlled spreading of the widest variety of wastes, from slurry to tough solids. PSC Series and PXL 100 Series ProSpread® Commercial apron box spreaders are high-capacity, rugged machines that easily spread the toughest materials. The HP 160 ProPush® push-type box spreaders are surprisingly simple, yet highly reliable machines that provide fast unloading and high-quality spreading performance with many different solid materials. With these three unique designs and a variety of sizes and options, KUHN Knight spreaders are the ideal choice for any industrial spreading application. 
ProTwin® Slinger® Side-Discharge Spreaders
ProTwin Slinger side-discharge spreaders set the standard for fast, efficient industrial and municipal spreading. Maximize productivity and performance with large capacity truck mount or trailer models. Even, consistent spread patterns and optional scale systems on select models provide precise application of the widest variety of industrial and municipal waste, biosolids, compost, food waste, drilling sludge and many other solid or slurry-type materials.
From land application of industrial wastes, to top dressing for erosion control, to spreading mulch in orchards and nurseries, there is a Slinger to meet any spreading need. The auto-lube greasing system services all stationary bearings and minimizes daily maintenance. 
ProSpread® Commercial Apron Box Spreaders
PSC and PXL Series ProSpread® Commercial truck and trailer apron box spreaders are the ideal choice for industrial operators who need a high-capacity, heavy-duty machine capable of spreading the most demanding materials. Available with a choice of horizontal beaters, vertical beaters, or spinner discharge, the PSC and PXL Series spreaders are highly customizable to help you get the job done.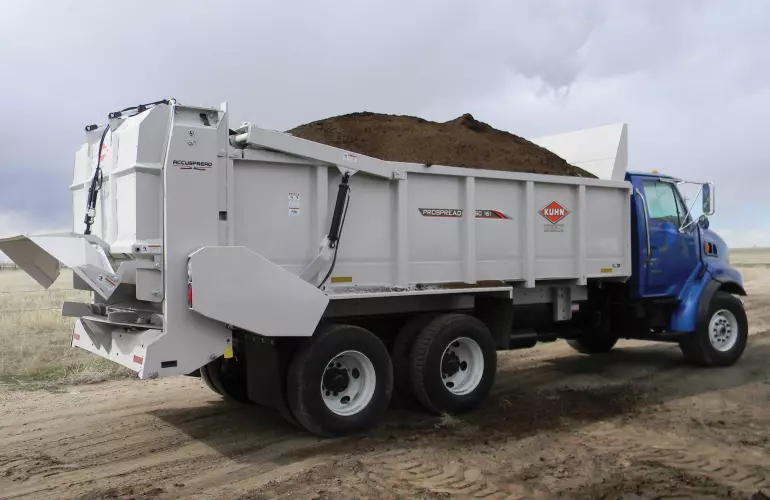 For spreading anything from compost, to biosolids, and many other industrial materials, these machines will provide top-quality performance and years of dependable service. When the task at hand is transporting materials, the beater assembly is easily removed and the PSC/PXL becomes an ideal tool for hauling materials to a storage site. Optional scale systems and GPS data mapping software are also available, making the PSC and PXL highly efficient, accurate machines.
ProPush® Box Spreaders
The HP 160 ProPush box spreaders were designed with quality and simplicity in mind. The hydraulic push unloading design completely eliminates apron chains, resulting in fewer moving parts and less maintenance while providing fast unloading. ProPush spreaders are an ideal choice for spreading solid industrial materials such as compost, biosolids and food waste. The polylam floor and sides, which are backed by an extended warranty plan, prevent material from sticking to the floor and sides, ensuring a complete cleanout with every load.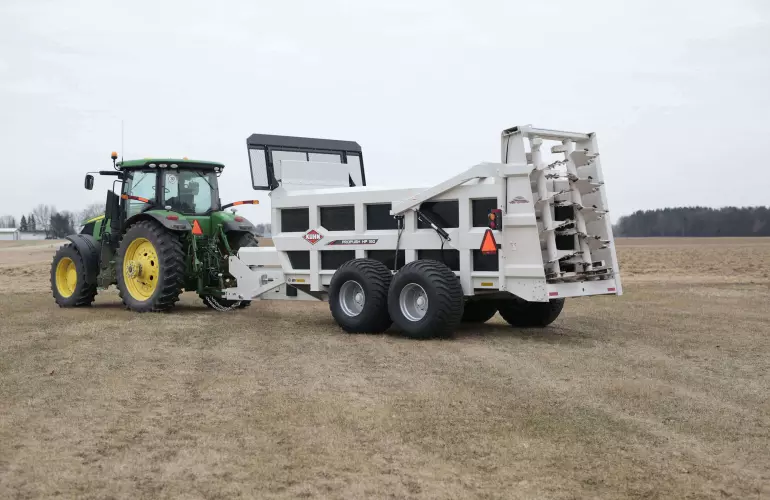 The HP 160 ProPush spreader is a versatile machine, available with a vertical beater configuration that is easily removable to convert the spreader for stockpiling applications. The all-steel welded ProPush construction provides a solid framework and includes a reinforced tongue that pulls directly from the full-width axle. When it comes to simplicity and versatility, the HP 160 ProPush is the spreader of choice.