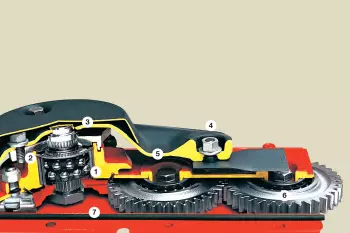 Proven 100 Series Cutterbar
Due to the high reliability, excellent crop cutting, and overall adaptability to varying terrains, the 100 Series cutterbar is a staple in the Premium Series. See for yourself by taking a closer look at what the 100 Series cutterbar has to offer.
Withstands the highest loads: special high-capacity bearings fitted in a one-piece sealed housing are not subject to distortion.
Increased service life: disc pinion shaft bearings endure radial forces for maximum bearing life. This optimum position improves the load balance.
Protection should an obstacle be struck: the Protectadrive® system is designed to protect the cutterbar gear train and minimizes the risk of downtime.
High-wear resistance: knife attachment hardware is fully protected. For added safety, heat-treated steel cups are welded to the disc.
Minimum wear or distortion risks: idler gear fasteners are located in heat treated steel cups. Correct alignment is ensured without the risk of distortion.
Long-term reliability: large-diameter gearwheels in high-tensile forged steel with reinforced teeth.
Perfect sealing: top-quality o-rings used on cutterbar bearing housings for a perfect, leak-free seal.