KUHN Celebrates 20 Years of Success with EMC Technology
For 20 years, KUHN fertilizer spreader operators have been distributing the right amount of fertilizer in the right place at the right rate using our patented Electronic Mass Flow Control (EMC) technology.
EMC is a unique technology that is well established in the industry and has been proven after years of experience. The EMC system regulates product flow using electromagnetic torque sensors to control the rate of material falling to each disc separately. This unique system allows each field to get the right amount of fertilizer every time.

Throughout its history, the EMC system has won multiple international awards including at Agritechnica, SIMA, ABRIBEX and EIMA. In North America, the Axis H-EMC line of fertilizer spreaders was recognized by ASABE as one of 2015's most innovative products because of the EMC system.
Today, KUHN uses EMC technology on our Axis® and Axent™ precision fertilizer spreaders to help farmers in North America, and around the world, meet their spreading needs.
To learn more about KUHN's EMC system and how it can help you achieve your operation's fertilizer spreading goals, click the button below.
 
Celebrating 20 Years of EMC Technology
Other
News
4 Sep 2023
Corporate
Learn more about the newest products from KUHN!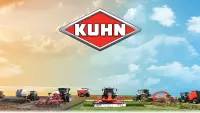 3 Jan 2023
Corporate
Explore our full lineup of products!
2 May 2022
Corporate
Senator Baldwin visited KUHN's North American Headquarters in Brodhead, Wis., for a tour and to discuss supply chain issues in the manufactu...