Feed Delivery Boxes
News & Offers
17 Dec 2021
Corporate
Explore our full lineup of KUHN Knight livestock products!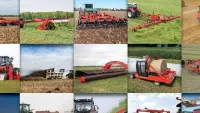 3 Sep 2021
Corporate
Learn more about the newest products from KUHN!
The new KUHN Knight ProFeed® PF 100 Series delivery boxes are an efficient option for many large and extra-large farms, feedlots and ranches to feed more cattle per load. Two models are available with capacities ranging from 1,000 to 1,450 ft3
The KUHN Knight BTC 100 Series delivery boxes are ideal for dairy and feedlot operations and can quickly and efficiently deliver a wide variety of rations. Four models are available in truck or trailer configurations, with capacities ranging from 550 to 1,000 ft³.