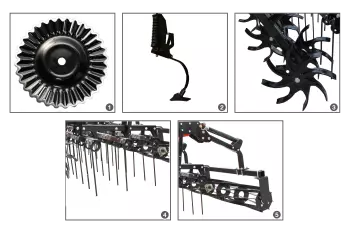 Exclusive 5-Step Process
Cut Residue
Exclusive KUHN Krause Excalibur® VT blades with their 32-flute edge uniformly size residue for smooth flow through the machine. The gang, angled 8 degrees toward the rear of the machine, minimizes lateral soil movement to improve the leveling action of the shanks.
Mix
Cultivator shanks provide thorough mixing action, dislodge weeds and settle soil. The Landstar™ offers a choice of 7" spacing for smaller clod sizing and more residue coverage, or 9" spacing for maximum residue handling capabilities.
Anchor Residue
Exclusive Star Wheel™ treaders cut clods, dislodge soil from weeds and root crowns, level ridges and recover residue evenly distributing it in the seedbed and on the soil surface.
Level Soil
Tine or spike harrows provide excellent clod breaking and additional leveling action. Choose the harrow system that best fits your cropping practice.
Enhance Seedbed Condition
The exclusive 24/7® Soil Conditioning Reel, available in 3-row tine with reel or 3-row spike with reel, accomplishes final clod sizing and soil firming with the ability to select a range of constant down pressure or float position to extend the weather/tillage window.