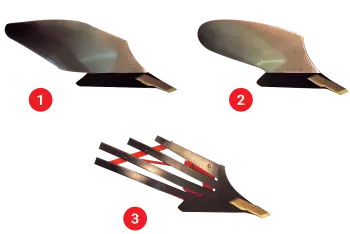 Multiple Moldboard Options
H4 Moldboard: The H4, helicoidal, Scandinavian-type moldboard provides well-formed plowing to a normal depth range of 7-12". The share is fitted with a reversible/replaceable point that greatly increases the life of the share. Recommended for fall plowing, the H4 moldboard is especially suited for heavy and damp clays. Furrow passes are well defined and trash burial is excellent.
N Moldboard: The helico-cylindrical N moldboard plows to a depth of 14". Designed to be highly versatile, it is cylindrical at front, helicoidal at rear. A low draft ensures a partly broken furrow with excellent trash burial. Recommended for spring plowing, this moldboard is versatile and works well in sandy or clay soils.
VP Slatted Moldboard: The VP slatted moldboard composed of independent and interchangeable slats. Reduces pulling power, due to a lower moldboard surface area. Designed for use in extremely sticky muck and clay soils. Not for use in sand or loam soils or in soils with rocks or stones. The multiple slats allow individual replacement from wear.