The Beginning

Joseph Kuhn founded a village forge in 1828. From that beginning, the company has evolved to become one of the largest manufacturers of agricultural implements in the world.
The first Kuhn-produced machines were distributed in North America in the 1960's. The initial sales were in the Northeast United States and Canada. As the business grew, sales expanded to other parts of the U.S. and Canada, where Kuhn pioneered markets and introduced new products such as disc mowers, disc mower conditioners and rotary rakes that improved various farming techniques. Kuhn Farm Machinery, Inc., the Kuhn North American distribution company, was incorporated in the U.S. in 1976, in Vernon, New York, a small farming community in the heart of upstate New York. The facility occupies a 25,000 sq. ft building that underwent a major expansion and renovation in 1990.
In 1988, Kuhn purchased the business of its former warehouse and sales representative in Quebec, Canada. This business, located in Ste-Madeleine, Quebec, later became Machinerie de Ferme Kuhn, the company's Canadian subsidiary.

In 1997, Kuhn proceeded with the construction of a brand new 28,000 sq. ft Distribution Center in Columbia, Tennessee, for the warehousing of machines and service parts, to serve the South and Central U.S. market areas.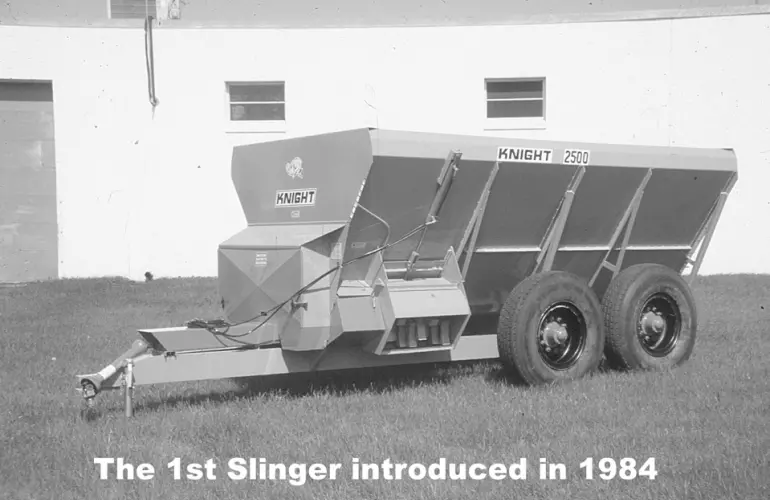 The Creation of Kuhn Knight

In December 2002, Kuhn purchased Knight Manufacturing Company, based in Brodhead, Wisconsin. Stan Knight, a local dairy farmer, founded the company in 1945 as Brodhead Machine Welding Company, which became Knight Manufacturing Company in 1952.

Kuhn Knight has a rich tradition of designing and manufacturing innovative, reliable and high-quality products for the agriculture industry. The first major challenge came from an Iowa customer in 1949 who said, "I wish someone would make a spreader that would not break down in frozen manure." This was the birth of the company's apron box spreader line.

The 1960's saw the birth of the "Auggie," the company's entry into the feed mixer market. The original mixer was a three-auger design that enabled producers to produce a total mixed ration for their livestock. Most of these early machines were sold to beef producers. The 1970s was a decade of accelerated growth, with several new spreader and mixer models introduced.
The 1980's brought challenges because of the downturn in the agricultural economy. However, new key products were introduced during these years that are still produced in high numbers today, such as the Slinger side-discharge manure spreader and the Reel Auggie TMR mixer. As the economy rallied in the 1990's, the Company responded with renewed development and plant expansions. In 1995, Knight purchased the Botec Company, based in Greeley, Colorado. Botec specialized in manufacturing large horizontal 4-auger TMR mixers designed for large farm operations in the western U.S.
Since the acquisition by Kuhn in 2002, the Company has increased its product offerings in mixing and spreading, and introduced new products such as the SpeedRake wheel rake line, and the Merge Maxx windrow merger line. Three major plant expansions took place in between 2004 and 2008, more than tripling the available manufacturing space.
The Creation of Kuhn Krause

In May of 2011, Kuhn purchased Krause Manufacturing Company, based in Hutchinson, Kansas. In 1916, Henry Krause built his first one-way disc plow in a small farm shop in Western Kansas. Designed to leave more residue on the soil surface to fight wind erosion, Henry Krause's one-way plow was the first conservation tillage tool. His neighbors saw the plow and were impressed with its value as a special tool for their own farming conditions and asked Henry to build more.
In the early 1920's Henry Krause's one-way plow business had outgrown his western Kansas location and he purchased the Twin Wheel Windmill factory in Hutchinson, Kansas, about 35 miles northwest of Wichita. This location and facility enabled him to expand his one-way plow business and fill the growing needs of America's farmers. And expand it did. During World War II, Krause was given a steel allotment and continued production of one-way plows to help America's farmers produce crops more efficiently. With a Krause one-way, a farmer could till as many as 100 acres (40.4 ha) per day.
In the years after World War II, Krause's business grew by leaps and bounds. In 1946, over 10,000 one-way plows were produced and sold. The next year this number increased to 15,000 plows. It was calculated that in 1947 Krause one-way plows tilled over 19 million acres (7.6 million ha) and helped produce 380 million bushels of wheat.
From that humble beginning in a small farm shop in Meade County, Kansas, Krause has grown into one of the world's top manufacturers of tillage equipment and grain drills. In 1988, Fortune Magazine listed Krause tillage equipment among the 100 products that America makes best.
Since the acquisition by Kuhn in 2011, the Company has branched out to include the finest quality and largest selection of farm tillage equipment and grain drills of any short line manufacturer in the world. With this addition, the following Kuhn Krause products have been added to the equipment lineup: disc harrows, field cultivators, chisel plows, disc/coulter chisels, Landsman and Landstar one-pass finishers, no-till and minimum till grain drills and soil packers.
Kuhn in North America Today

In January 2008, Kuhn Farm Machinery and Kuhn Knight merged to form Kuhn North America, Inc. In March 2011, Kuhn acquired Krause Corporation, a North American leader in tillage equipment and grain drills, located in Hutchinson, Kansas. This new addition to Kuhn Group, named Kuhn Krause, adds a broad range of large-width tillage and seeding tools tailored to meet the needs of large-scale crop producers to Kuhn's global offering.
Today, Kuhn markets over 13,000 machines per year in North America. Kuhn machines and service parts are sold under the Kuhn, Kuhn Knight and Kuhn Krause brands and are distributed through a network of approximately 1,000 independent agriculture equipment dealers in the U.S. and Canada.

Over 500 Kuhn North America employees work at the Company's headquarters in Brodhead, Wisconsin; at four regional distribution centers in Colorado, New York, Tennessee and Washington; and at a subsidiary, Machinerie de Ferme Kuhn in Quebec, Canada. Over 350 employees work at Kuhn Krause, located in Hutchinson, Kansas. Kuhn's employees in North America are dedicated to providing quality products and excellent customer service to dealers and retail customers.
As a result of its rich and diverse history, Kuhn has achieved North American and worldwide leadership in many of its product segments, including hay tools, TMR mixers, manure handling equipment and crop production equipment.

Agricultural requirements are constantly changing and the demand for quality products and services continues to increase. Kuhn strives to ensure the availability of the best machines to meet the changing agricultural demands. Kuhn is dedicated to serving agriculture with quality products, parts and service.